10 février 2008
7
10
/

02
/

février
/

2008
14:52
Inter Press Service News Agency (IPS)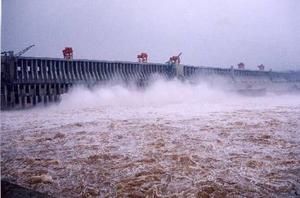 By Antoaneta Bezlova


BEIJING, May 23 (IPS)

China is emerging as a new backer of massive dam projects around the globe, giving rise to fears for pristine natural resources and the cultural heritage of river peoples.


Three Gorges Dam (l
argest hydroelectric dam )
Photo: instablogsimages.com
Already home to nearly half of the world's dams, China intends to more than double its hydropower generating capacity by 2020 by adding a series of new dams across the country. More significantly, in recent years, Beijing has been ambitious about financing and building dams, both close to home in Asia as well as in half-a-dozen African countries.
In South-east Asia, Chinese officials are focusing on the Salween, the last major river left in Asia, which has not been dammed. Plans are afoot to create a cascade of 13 dams across the Salween (called the Nu river in China) and Beijing recently signed a deal with Burma's government to build another dam on the river inside the country.
There are more dam projects planned for the neighbouring countries of Laos and Cambodia and long-standing plans to build reservoirs on the Chinese side of international rivers like Mekong.
Commenting on China's new role, Peter Bosshard, policy director of International Rivers Network, a California-based non-governmental organisation (NGO) said: "They didn't have the technology and the expertise before but these days we see more and more of China's involvement in various dam projects around the world".
The turning point came perhaps with the construction of the Three Gorges Dam on the Yangtze River -- the world's largest hydropower project. The 185m-high dam across Asia's longest river, is perceived here as a milestone in the country's history of hydraulic innovation. The dam structure was finished in 2006 and the whole project would be completed by 2009.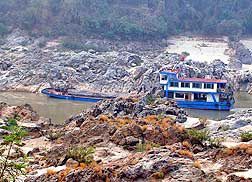 Chinese companies working on the dam along with their foreign partners benefited from the extensive technology transfer requirements imposed by the government. These newly acquired skills and know-how, coupled with heavy financing in hydro-capacity and support from state financial groups are now transforming China into a global hydraulic power.
Photo: my.reset.jp/
~adachihayao
But as much as a source of pride and confidence for Chinese officials, the Three Gorges Dam has been a symbol of stifled national opposition. China's largest infrastructure project to date, the dam was designed and constructed without any public participation of the affected communities.
Roughly a million people have been displaced from their ancestral places so far, unique antiquities destroyed and natural habitats submerged during the construction. Dam opponents argue that social and environmental costs of the project would ultimately outweigh the benefits of hydropower and flood control touted by government officials.
"China favours a top-down approach in dam building where everything is decided between officials and local people are excluded," says Ali Askouri, president of the Piankhi Research Group based in London. "This is a very dangerous approach to apply anywhere but especially in Africa, because it can generate a lot of social strife."
China is currently backing at least ten dam projects in Africa, in various countries like Sudan, Ethiopia, Zambia, Ghana, Nigeria, Republic of Congo and Mozambique. Nearly all of them have been financed through China Exim Bank, the country's official export credit agency, often as part of bigger cooperation packages including energy deals and minerals extraction.
China's accelerated investment spree in African projects has come under scrutiny from various international observers for undermining Western attempts to improve governance and reduce corruption in African countries.
For instance, to maintain access to Sudan's rich oil supplies, China has refused to censure the internationally ostracised regime of Khartoum. Meanwhile, in Angola, which is now China's largest supplier of oil, there are concerns that Beijing's no-strings-attached investment in infrastructure is undoing the IMF's and World Bank's efforts to strengthen transparency.
Coming with few high benchmarks on human rights and good governance, Chinese investment for many African dams has fuelled controversy because of Beijing's alleged disregard for environmental concerns and the plight of displaced people.
A case in point is the Merowe Dam in Sudan, built by two Chinese companies and financed by China Exim Bank, which is displacing some 50,000 local people from fertile lands in the Nile Valley to harsh desert lands against their will. Protests by local people who had demanded to be resettled at the shores of the new reservoir rather than in the proposed arid desert have been violently suppressed by the authorities.
"Chinese engineers on the dam site are fully aware of the repression going on around them but they never interact with local people," said Ali Askouri who represents the dam-affected communities at Merowe. "It is hard to speak of any sense of development when those who are supposed to promote it are hiding in camps guarded 24-hours by professional security companies."
Environmental activists say their warnings about adverse impact of Chinese-backed dams in various African countries have been so far left unheeded.
The Mpanda Nkuwa Dam, which China Exim Bank agreed to finance in May 2006, will have major environmental impacts on the Zambezi Delta, a protected Ramsar site, according to water experts. The Bui Dam in Ghana would flood nearly a quarter of the Bui national Park, destroying habitat for rare hippos and forcibly resettling 2,600 people.
"With the Chinese stepping in, all social requirements for dialogue with affected communities were lowered and the project was fast-tracked," recalls Daniel Ribeiro, a water expert with Justica Ambiental, a Mozambican NGO, monitoring the Mpanda Nkuwa Dam. Environmental assessment of the project has not been made public and public consultation has been limited.
Social and environmental costs aside, China's own safety record is another factor worrying experts. China, which has built more dams than any other country in the world, admitted in April that many of them are "time bombs" that threaten the lives and property of people living downstream.
Jiao Yong, vice-minister of water resources, said the cost of repairing the unsound structures would be around 700 million US dollars annually over the next three years. "It is a huge task," Jiao told a national meeting on the repair of dangerous reservoirs last month.
Chinese leaders continue to see hydropower as a priority strategy for the country's rapid economic development but there are signs that they are also becoming more responsive to public concerns about big infrastructure projects at home.
Water minister Wang Shucheng spoke recently against "dramatic and unscientific projects" in the country's water management, saying that building a "water-saving society" is more important.
Public pressure has prompted Beijing to halt plans to dam the scenic Tiger Leaping Gorge on the Jinsha river. Opposition has also delayed approval to some of the dams on the Salween while a development plan on water resources is being drawn up.
The awakening of China's green consciousness is a welcome sign for water experts and activists abroad. "We only hope that what Beijing is already doing inside the country with the help of its environmental watchdog would be applied also in Africa and other places where Chinese companies are building dams," commented Bosshard. (END/2007)
http://www.ipsnews.net/print.asp?idnews=37844